Main Menu
OPENING & VENTILATION OPTIONS
To ensure a pleasant, healthy environment within a building the relationship between insulation, heating and ventilation must be correct. Minimum acceptable levels for both insulation and ventilation are included in parts L and F of the Building Regulations.

Mardome dome rooflights offer a number of options giving customers the opportunity to choose the most appropriate ventilation for their building. All Mardome Ultra, Surefit and Trade rooflights are available with the following opening options:

Hinged opening domes with manual or powered linear drive for ventilation

SV30 or SV90 automatically opening domes to assist with smoke clearance and/or with the following background ventilation options:

Trickle ventilation (hit and miss)

Automatic humidity control trickle vents and/or as access hatches to gain access to the roof (not suitable for providing ventilation under normal circumstances).

RAPID VENTILATION
Manual & Powered Linear Drive Opening Domes

Hinged opening domes are available with either manual or powered opening options, these units are supplied with a single or tandem operating actuator which can extend to a maximum of 300mm.

The manual option is opened via a worm gear drive operated from floor level using an extension pole.The electrically powered alternative includes a small motor operated from a 240V mains supply and the kit includes a control switch to open and close the rooflight.

Sensors for automatic operation (e.g. rain sensors, wind sensors, internal temperature sensors) are also available for use with powered linear drive opening domes.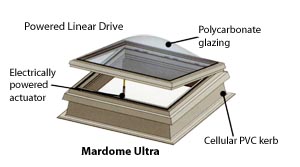 SV30 & SV90 Automatically Opening Domes
SV30 and SV90 automatic opening domes open to 30 degrees and 90 degrees respectively, to facilitate the maximum possible ventilation. Typically these automatically opening rooflights function as part of a smoke clearance system although they can also be configured to operate manually (e.g via a wall mounted switch) or automatically (e.g. if connected to separate sensors).

Actuators operate from a 24V DC supply and are usually connected to a separate control system (for smoke clearance). Polarity to the actuators needs to be reversed to open or close, and the SV90 includes magnetic latches which require a permanent 24V supply.

BACKGROUND VENTILATION
Background ventilation can be achieved by fixing either the permanent or trickle vent adaptors onto the frame above the waterproofing membrane.These frames have two 4000mm2 ventilation slots which, when opened, permits a natural air flow in either direction. Mardome Premier have louvre vents the full length of all 4 sides, as standard.

An Automatic Humidity-Controlled Trickle vent option is available on Mardome Ultra, Surefit and Trade. Automatically controlled by humidity-sensitive strips the Automatic Humidity-Controlled Trickle vent opens and closes in response to individual room humidity levels. This vent option requires no electricity supply.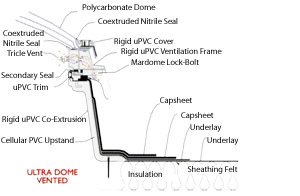 ACCESS HATCH
To gain entry onto the roof either for maintenance purposes or as an emergency exit the glazing unit is held open at nearly 90º by two gas assisted struts.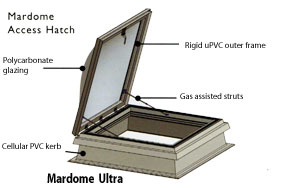 INSTALLATION
For details on installing Mardome dome rooflights please refer to the following technical bulletins. Copies are available from the Technical department on tel: 024 7660 2022
159 Mardome Premier / 160 Mardome Ultra
161 Mardome Surefit / 162 Mardome Trade
163 Mardome Reflex / 164 Lock-bolt release instructions /
165 Asphalt kit - installation details


CLEANING
Please refer to Technical Bulletin 140 - for polycarbonate cleaning and maintenance.
Our World, Your Vision